Recently viewed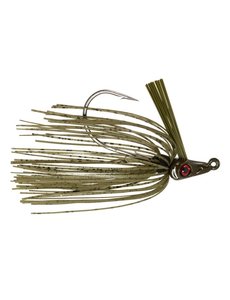 BOOYAH MOBSTER SWIM JIG 5/16 OZ GRAND

Unit price: $0.00
he BOOYAH Mobster Swim Jig comes to us as a closely guarded secret housed by the Oklahoma bass fishing club, the Muddy Water Mob.
Read more
Specifications
Article number:
BYMSJ516100
Information
Mobster has been a mainstay among these anglers for fishing the rugged waters of the Arkansas River that requires a jig to boldly come through cover and perform under harsh circumstances. Enter, the BOOYAH Mobster Swim Jig built with a unique tapered head that gives it a slight wag on the retrieve and prevents any cover from snagging it inadvertently. Built with only the finest components such as a heavy-duty black nickel hook, vibrant full skirts, stout weed guard, and a wire plastic keeper. This is a must-have lure for any heavy cover fisherman because it was built by some of the most innovative in the game.
Related products


BOOYAH BABY BOO JIG 3/16 OZ 3D GREEN PUMPKIN
The BOOYAH Baby Boo Jig has a 60-strand ultra fine BOOYAH silicone skirt, light weed guard and a Ultra Point black nickel light wire hook This baby has a proven record of catching the big ones.