Recently viewed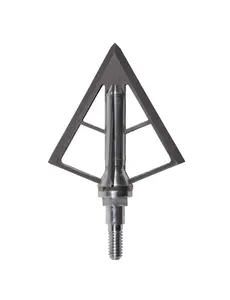 SWHACKER BROADHEADS #252 RAZOR - 4-BLADE FIXED BROADHEAD
$

49.99

Excl. tax
In stock

Unit price: $0.00
Specifications
Brand:
SWHACKER BROADHEADS
Information
Swhacker RAZORSeries Fixed Blade Broadheads
Swhacker proudly offers the American-Made RAZORSeries fixed blade broadheads. Offering three models to choose from, the RAZORSeries blades are engineered from solid 420 stainless steel and feature up to .065 blade thickness, over TWICE the thickness of other fixed blade broadheads on the market. Each RAZORSeries broadhead is laser-cut, independently ground, and hand-stropped to shaving-sharp perfection.  Each RAZORSeries broadhead features an additional bleeder blade for maximum devastation. Available in three different 100 grain models, each offers a different blade pitch (35, 54, 59 degree) and blade dimension to fit your hunting style.
100% MADE IN THE USA!
RAZOR252
100 grain
1.5" cutting diameter (main blade)
420 stainless steel blade (1.5"W x 1.5"L)
Bleeder blade (.875" x 1") - removeable
59° blade pitch
.065" blade thickness
MADE IN THE USA